Profile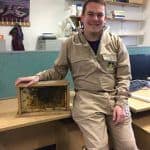 Scott Dwyer
Curriculum Vitae
Education

North Liverpool Academy (Liverpool), UWC Atlantic College (St Donats, Wales), University of Brighton, Harper Adams University, University of Warwick

Qualifications

Masters Degree: MSc Entomology (Merit), Undergraduate Degree: Biological Sciences BSc (Hons) 2:1, GCSES & BTECs; Mathematics (A*), Science Double Award (AB), English Literature (A*), English Language (A), French (B), Geography (A), Performing Arts (Distinction*), Business Studies (Distinction*), ICT (Distinction)

Work History

Shop Assistant, Gambling Arcade and Tanning Salon Supervisor, Peer Assisted Study Supervisor, NEXT Christmas Temp, Zoo Enrichment Team, GCSE Biology Marker, University Tour Guide, Outreach Helper

Current Job

PhD Student and Statistics Drop-in Tutor

Employer
Favourite thing to do in my job: I love inspecting the colonies of honey bees

About Me: I'm a scientist studying insects, from Liverpool, living in Coventry. I like insects, long walks and socialising with my friends.

Read more

I live on Warwick University campus in Coventry with my partner and friends. We have some pet cockroaches and sun beetles.  I grow quite a lot of plants in my house and make my own wines. I am part of the student council on campus and love to get involved and enjoy meeting new people. I  am a member of the LGBT+ group at Warwick and help run a socials for loads of students from film nights and discussions to craft sessions.

My Work: I am a honey bee scientist, I work on a small mite that feeds on honey bees and gives them a virus that can kill them. I work on new ways to control this mite using fungi.

Read more

My work focuses on honey bees and a small parasitic mite that feeds on them called Varroa destructor. My job is to work out new ways to control this mite. I am using fungi to control the mite and I have to check the fungi does not harm the bee in any way and only kills the mite.

This means I set up a lot of experiments looking at the interaction between the bees, fungi and mites.

My Typical Day: I get up around 7 am and then jump the bus to work. My day normally starts with gathering everything I need to set up the experiment I'm going to do the day and then either jumping into a bee suit to collect some bees or mites to work with or putting on my lab coat and heading into the lab. I have to grow a lot of the fungus I work with in the lab to kill the parasitic mite of bees - so a lot of effort goes into making sure this ready to work with each week.

Read more

I am based at Warwick Crop Centre which focuses on crops, pathogens and insects and how we can be more sustainable in the future.

What I'd do with the prize money: I'd like to run day long workshops for local primary and secondary schools about insects.

Read more

I'd like to run day long workshops for local primary and secondary schools about insects. It'd include information about the huge variety of insects we have in the UK and have various interactive lectures on the Orders of Insects (Bees, Wasps and Ants to Butterflies and Moths and how they're related and evolved), Pollinators, Life Cycles, House Pests & Guests and what insects contribute to the planet in terms of ecosystem services (e.g. pollination, pest control, nutrient cycling) and identification of insects using keys.

I'd use the money to buy some equipment (such as some hand lens microscopes and insect display draws) and some live insects so students can handle insects and see them up close and personal and to ensure I reached as many schools in the area as possible.

My Interview

How would you describe yourself in 3 words?

Outgoing, loud, fun

What or who inspired you to follow your career?

My biology teacher did, he used to give me books about bees

What was your favourite subject at school?

One subject is too hard! I loved all the sciences, maths and drama. I was played Willy Wonka in a school production of Charlie & The Chocolate Factory.

What did you want to be after you left school?

I originally wanted to be a Doctor.

Were you ever in trouble at school?

I used to talk a lot because I tended to read a head in the text books!

If you weren't doing this job, what would you choose instead?

Maybe a writer or a poet or an event planner (I'm quite good at organising things)

Who is your favourite singer or band?

I like Marina and the Diamonds and Adele

What's your favourite food?

I think my Mum's cooking (nothing is better than homemade food)

What is the most fun thing you've done?

I've travelled quite a bit and worked in a zoo in China

If you had 3 wishes for yourself what would they be? - be honest!

Lots of money, a house for all my family and friends and to visit every country

Tell us a joke.

What did the bee say to the naughty bee? Bee-have yourself!
---
---