Profile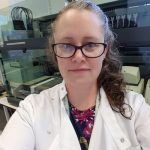 Caragh Whitehead
Curriculum Vitae
Education

I went to school in a small town, by the sea, in South Africa called Fish Hoek until 1996. I then went to University in Stellenbosh, South Africa where I completed my undergraduate, honors and masters degree before coming over to the UK in 2006. I completed my PhD at the University of York in 2017.

Qualifications

We don't do GCSEs or A levels in South Africa, instead we do our matric exams at 17 years old. My subjects were English, Afrikaans, Maths, Science, Biology and Accounting. My undergraduate degree was a Bachelor of Science in Genetics, Biochemistry and Psychology. My honors degree was in Genetics and my Masters Degree was in Human Genetics, specifically looking at what the could be causing children to be born deaf. For my PhD, I decided to switch to studying plants and how we can break them down into useful compounds that we could use instead of fossil fuels.

Work History

Senior Research Technician (Rice Projects) - Prof Simon McQueen-Mason Group, University of York. Senior Research Technician (Hemp Project) - Dr Thilo Winzer Group, University of York. Senior Research Technician (Renewall/Sunlibb Project) - Prof Simon McQueen-Mason Group, University of York. Research Technician (Artemisia Project) - Prof Ian Graham Group, University of York.

Current Job

Senior Research Technician (Daphniphyllum Project) - Dr Benjamin Lichman Group, University of York

Employer

Center for Novel Agricultural Products, Biology Department, University of York.
Favourite thing to do in my job: I love learning new things.

About Me: I live with my husband, 5 year old son and two cats in York and enjoy doing anything crafty.

Read more

I live in York with my husband and 5 year old son who keeps me very busy. When I do have free time, I love to make children's clothes and do other crafts such as crochet and cross-stitch. Spending time is nature is also really important to me so going for walks or camping is an activity we do as a family. People are always surprised to find out that I play a full contact sport on roller skates called Roller Derby.

My Work: I'm a plant scientist interested in how plants can lead to improvements to all areas of our lives.

Read more

I work as a Research Technician so I'm involved in doing various experiments as well as keeping the equipment working and helping others in the lab. The most recent project I was involved with was looking at what we could do with the rice straw that is left over in the fields after harvesting. In places like Vietnam and the Philippines this rice straw is burnt in the fields and it produces a lot of pollution that is very bad for people's health. We were looking at trying to find out what this rice straw was made of and if we could then turn it into useful products such as biofuel, bioplastics and biochemicals. These products could then be used instead of those that are currently produced from fossil fuels. These products would then be produced in a biorefinery.

My Typical Day: I'm up really early in the morning so that I'm in the lab first to get any equipment started. I then have a cup of tea and plan my work for the day. Sometimes I spend the day in the lab doing experiments and other days I'm in the office looking at all the data.

Read more

I'm up at 6 am to get my son to breakfast club before work. Once I'm at work I check my email and plan my day. Some days are spent in the lab working on experiments other days are spent in front of the computer looking at my results or catching up of paperwork or ordering supplies. My experiments involve using a number of robots that can do some of my work for me. This means we can get through lots of work as it works through the night (so I don't have too). I like to eat lunch away from my desk so meet up with friends for a chat. Some afternoons I leave early so I can collect me son from school but other evening I have to stay late to finish off experiments. I like that I can be flexible with my time.

What I'd do with the prize money: I would like to use the money to run STEM sessions at holiday clubs focusing on the wonders of plants.

Read more

Currently, most of the outreach I've been involved in has been in schools and I would like to expand these sessions to holiday clubs. I feel most holiday clubs focus on sports so I would like to offer something a bit different. I would like these session to be hands on as possible so would need to buy equipment and supplies that children of various ages could use. I would focus on plants mainly as I feel that children don't get enough of chance to learn how amazing plants are and how they affect all areas of our lives and how they can solve some of the problems that we currently face.

My Interview

How would you describe yourself in 3 words?

Quite, friendly, helpful

What or who inspired you to follow your career?

My science teacher at high school, Ms Grobbelaar.

What was your favourite subject at school?

Biology

What did you want to be after you left school?

To be a detective.

Were you ever in trouble at school?

Only for small things like forgetting my books.

If you weren't doing this job, what would you choose instead?

I would be a dressmaker.

Who is your favourite singer or band?

I really enjoy dance music, my latest find is the DJ Amelie Lens

What's your favourite food?

Ice cream

What is the most fun thing you've done?

Play Roller Derby

If you had 3 wishes for yourself what would they be? - be honest!

Be able to visit family in South Africa more often, buy my own house, have longer weekend.
---
---